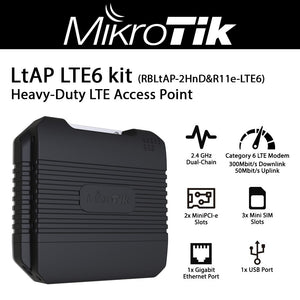 Mikrotik LtAP LTE6 - Heavy-duty Wireless LTE Dual Chain 2.4 GHz Access Point with Micro SIM Slot.
media mea
Regular price $300.00 Sale
LtAP LTE6 kit also known as RBLtAP-2HnD&R11e-LTE6. It is a compact 4G (LTE) capable weatherproof wireless access point – perfect for busy urban environment or off-the-grid outdoors networking. It has a built-in CAT6 cellular modem that supports 4G (LTE) connectivity out of the box – with up to 300 Mbps download speed! Best for CMAS CONNECT WiFi Marketing and RideShare GPS tracking.
CAT6 also enables carrier aggregation and allows the device to use multiple bands at the same time. A huge advantage when there are a lot of LTE users in the area. It provides better responsiveness in a crowded environment and higher efficiency for weaker signal situations in the countryside.
The rugged and extremely durable case with a special wall mounting kit will be ideal for almost any challenge: from public transportation, food trucks or logistics to harsh winter and stormy desert environment. LtAP can handle any temperature from -40 C° to +70 C°. It is a superb solution for
tracking vehicles in real time. We have provided a simple tracking application example in the RouterOS documentation to help you get started. LtAP LTE6 kit even has 3 Mini-SIM slots for easy roaming management. Saves your time and money worldwide!
The unit comes with an extra miniPCIe slot, offering many expansion options. For example, you can install a second LTE modem for redundancy or a 5 GHz interface to have dual concurrent 2.4 GHz / 5 GHz AP + LTE. Another miniPCIe slot is already populated with the LTE modem
LtAP LTE6 kit has a RS232 serial port, which gives you console access for debugging, as well as full size USB for other devices. There is a Gigabit Ethernet LAN port for your wired devices and several power options – DC jack, POE-in and automotive.
Specifications

Product code    RBLtAP-2HnD&R11e-LTE6
Architecture    MMIPS
CPU    MT7621A
CPU core count    2
CPU nominal frequency    880 MHz
CPU Threads count    4
License level    4
Operating System    RouterOS
Size of RAM    128 MB
Storage size    16 MB
Storage type    FLASH
Tested ambient temperature    -30°C to 70°C
Powering
PoE in    Passive PoE
PoE in input Voltage    12-30 V
Number of DC inputs    3 (DC jack, PoE-IN, Automotive)
DC jack input Voltage    12-30 V
Automotive input Voltage    12-30 V
Max power consumption    24 W
Max power consumption without attachments    12 W
Mobile
2G Category    Class12
2G bands    2 (1900MHz) / 3 (1800MHz) / 5 (850MHz) / 8 (900MHz)
3G Category    R7 (21Mbps Downlinks, 5.76Mbps Uplink) / R8 (42.2Mbps Downlink, 5.76Mbps Uplink)
3G bands    1 (2100MHz) / 2 (1900MHz) / 5 (850MHz) / 8 (900MHz)
LTE Category    6 (300Mbit/s Downlink, 50Mbit/s Uplink)
LTE FDD bands    1 (2100MHz) / 2 (1900MHz) / 3 (1800MHz) / 7 (2600MHz) / 8 (900 MHz) / 20 (800MHz) / 5 (850MHz) / 12 (700MHz) / 17 (700MHz) / 25 (1900MHz) / 26 (850MHz)
LTE TDD bands    38 (2600MHz) / 40 (2300MHz) / 39 (1900MHz) / 41n (2500MHz)
Wireless
Wireless 2.4 GHz Max data rate    300 Mbit/s
Wireless 2.4 GHz number of chains    2
Wireless 2.4 GHz standards    802.11b/g/n
Antenna gain dBi for 2.4 GHz    2.5
Wireless 2.4 GHz chip model    AR9382
Wireless 2.4 GHz generation    Wi-Fi 4
Ethernet
10/100/1000 Ethernet ports    1
Peripherals
Number of SIM slots    3 Modem (Mini SIM)
MiniPCI-e slots    2
Serial port    RS232
Number of USB ports    1
USB Power Reset    Yes
USB slot type    USB type A
Max USB current (A)    1
Other
PCB temperature monitor    Yes
Voltage Monitor    Yes