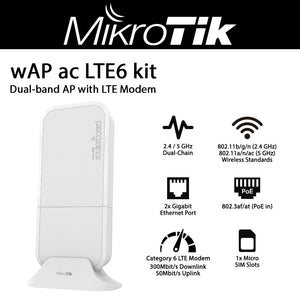 Mikrotik wAP ac LTE6 kit Wireless Dual-band Access Point with Micro SIM Slot.
media mea
Regular price $220.00 $195.00 Sale
A small package with huge ambition – the wAP ac LTE6 kit also known as RBwAPGR-5HacD2HnD&R11e-LTE6 has a new CAT6 LTE modem which enables even greater download speed – up to 300 Mbps! This is used with our CMAS CONNECT for WiFi Marketing.
CAT6 also enables carrier aggregation and allows the device to use multiple bands at the same time. A huge advantage when there are a lot of LTE users in the area. It provides better responsiveness in a crowded environment and higher efficiency for weaker signal situations in the countryside.
wAP ac LTE6 kit has two Gigabit Ethernet ports – you can use the device as a wired router with LTE backup via the Micro SIM slot. Alternatively, you can enjoy smooth wireless experience anywhere – indoors or outdoors. wAP ac LTE is designed to deliver strong and reliable connection in almost any situation and weather conditions. It can withstand temperatures from -30 C° to +60 C° and can be easily mounted on walls, ceilings or poles.
Specifications

Product code    RBwAPGR-5HacD2HnD&R11e-LTE6
Architecture    ARM 32bit
CPU    IPQ-4018
CPU core count    4
CPU nominal frequency    716 MHz
License level    4
Size of RAM    128 MB
Storage size    16 MB
Storage type    FLASH
Tested ambient temperature    -30°C to 60°C
Powering
PoE in    802.3af/at
PoE in input Voltage    18-57 V
Number of DC inputs    2 (DC jack, PoE-IN)
DC jack input Voltage    10-57 V
Max power consumption    16 W
Max power consumption without attachments    10 W
Mobile
2G Category    Class12
2G bands    2 (1900MHz) / 3 (1800MHz) / 5 (850MHz) / 8 (900MHz)
3G Category    R7 (21Mbps Downlinks, 5.76Mbps Uplink) / R8 (42.2Mbps Downlink, 5.76Mbps Uplink)
3G bands    1 (2100MHz) / 2 (1900MHz) / 5 (850MHz) / 8 (900MHz)
LTE Category    6 (300Mbit/s Downlink, 50Mbit/s Uplink)
LTE FDD bands    1 (2100MHz) / 2 (1900MHz) / 3 (1800MHz) / 7 (2600MHz) / 8 (900 MHz) / 20 (800MHz) / 5 (850MHz) / 12 (700MHz) / 17 (700MHz) / 25 (1900MHz) / 26 (850MHz)
LTE TDD bands    38 (2600MHz) / 40 (2300MHz) / 39 (1900MHz) / 41n (2500MHz)
Wireless
AC speed    AC1200
Wireless 2.4 GHz Max data rate    300 Mbit/s
Wireless 2.4 GHz number of chains    2
Wireless 2.4 GHz standards    802.11b/g/n
Antenna gain dBi for 2.4 GHz    2.5
Wireless 2.4 GHz chip model    IPQ-4018
Wireless 2.4 GHz generation    Wi-Fi 4
Wireless 5 GHz Max data rate    867 Mbit/s
Wireless 5 GHz number of chains    2
Wireless 5 GHz standards    802.11a/n/ac
Antenna gain dBi for 5 GHz    2.5
Wireless 5 GHz chip model    IPQ-4018
Wireless 5 GHz generation    Wi-Fi 5
Ethernet
10/100/1000 Ethernet ports    2
Peripherals
Number of SIM slots    1 Modem (Micro SIM)
MiniPCI-e slots    1
Other
PCB temperature monitor    Yes
Voltage Monitor    Yes