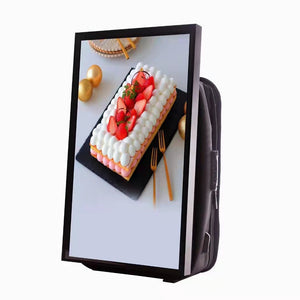 MEYA - SE 22 High Brightness Digital LCD Backpack
media mea
Regular price $650.00 Sale
The MEYA - SE 22 Higher Brightness Backpack Digital LCD Billboard is a moving digital advertising billboard solution that is perfect for showcasing dynamic content in high-traffic areas like trade shows, shopping centers, sporting events, music festivals, and other areas ensuring traffic audience never misses out on delivered content. The MEYA - SE 22 backpack is packed with a 21.5" HD LCD screen. Each MEYA is equipped with internal speakers combining your brand's visual content with dynamic audio resulting in an enhanced experience that will engage passerby audience. The unit is suitable for indoor and light outdoor use and it is constructed of an aluminum frame with durable canvas and nylon backpack that will withstand heavy duty usage. The unit is powered with an Android 7.1 operating system with access to pre-installed apps such as the Google Play Store and Chrome web browser. The MEYA offers Wi-Fi and Bluetooth connection capabilities as well as Ethernet, HDMI, and 2 USB ports for convenient external media content uploads when needed. Each lightweight wearable signage display is highly portable, weighing only 10 pounds. It is also equipped with adjustable foam padded straps to provide lumbar support for superb comfort during prolonged on-the-go advertising sessions. As an added benefit, this illuminated walking marketing display comes with a combination lock to keep contents safe from theft and tampering. The rechargeable battery pack on this display is powerful enough to provide power for up to 8 hours of use and showcases a USB port to power external devices and level gauge that indicates when the unit needs charging.

Technical Specifications:

Diagonal Screen Size: 21.5 inches.
Overall Screen Size: 13.0" x 17.5" x 6.0"
Brightness: 1000 nits
Overall Weight: 10 Ibs
Resolution: 1920 x 1080P
Built-in 2.4GHZ Wi-Fi and 4G LTE.
Built-in with 2 speakers
Supports 1080P video with wide APK applications
Built-in battery: 12V, 10000 mAh. 5 hours non-stop usage before recharge.
Integrated Player OS: Android 7.1 OS.
RK chip, Quad Core ARM Cortex A-9, Real 2GHz.
2G DDR3, 8GB memory.

Accessories: Battery charger, Support rod, Backpack, Remote control.