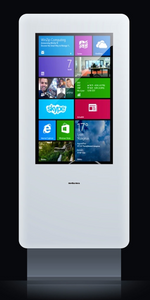 MEZ 43" Indoor Digital Signage Display Totem
media mea
Regular price $2,195.00 Sale
The MEZ kiosk is specially designed for multimedia advertising purposes and supports 43" display size. MEZ has two independent systems of ventilation, one for the monitor and another for the PC. MEZ can be equipped with players (Android, OPS & PC's) with different "performances" (CPU) of hard drives while running the latest OS from Linux, Mac, Android or Windows.
MEZ is an excellent platform for displaying different multimedia content (advertising, institutional information, entertainment, etc..) and can be used as an information point, way-finding or other digital signage purposes.
With interactive Integration, MEZ provides a new way to utilize it as such with multimedia content or with a more creative and playful interactive applications. Lead time 35 to 45 days.
For additional customization, please contact us to sales@mediamea.com.